The recent resurgence in the poultry meat sector has proven to be short-lived, and placings of both broilers and turkeys began falling away again in August.
For broilers, the earlier recovery in day-old placings had started in June, and saw them reach levels comparable to previous years by July, as the accompanying chart shows.
See also: Chicken production set to decline across Europe this year
However, continuing problems in the processing chain along with a subdued foodservice sector has brought this to a halt.
In August, total chick numbers during the month dropped sharply and fell well short of their customary high point, being down by 2.6 million on the same month last year.
When placings from April-August are added together, total chick placings were five million lower overall than in the same period of 2019, a decline of one per cent to 453 million.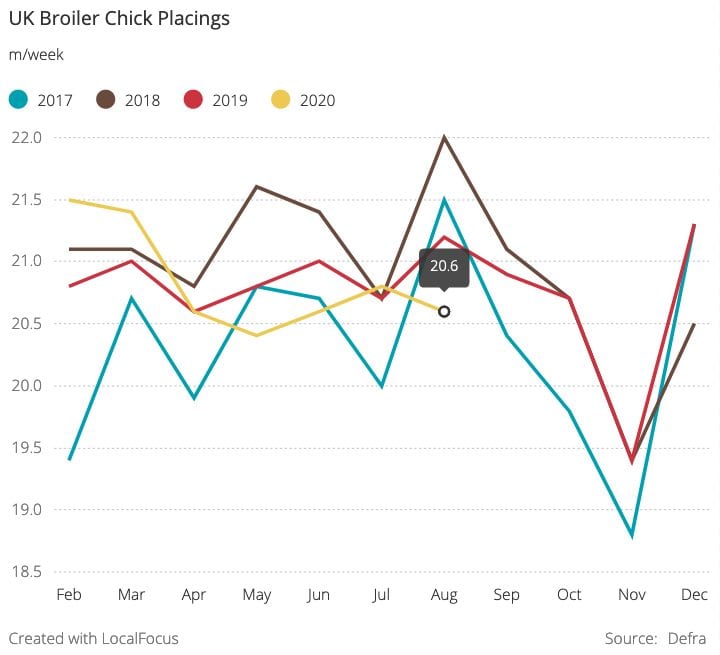 Somewhat surprisingly, total placings for the year to date show an overall increase of five million on Jan-Aug 2019, due to the strong start by the industry in the first three months of this year, before the crisis took hold.
Turkeys
In the turkey sector, August was another disappointing month overall.
August is usually the peak month for Christmas turkey placings, but poult numbers fell back below the figure for July (see chart).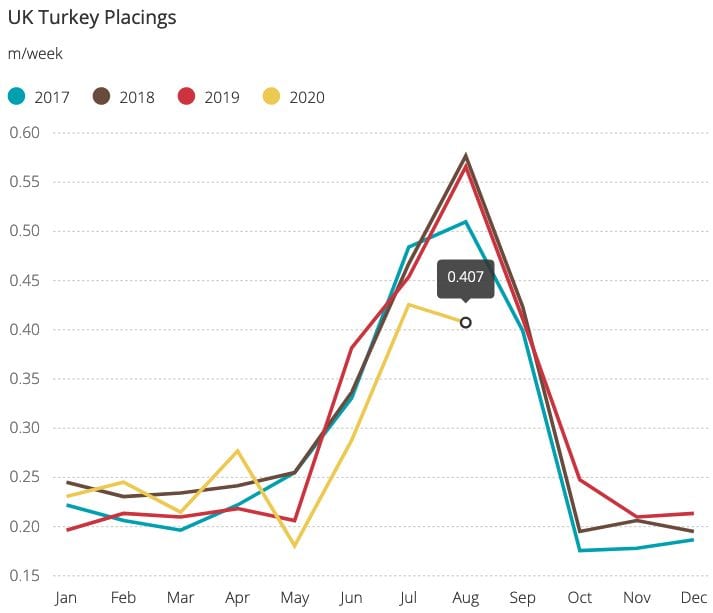 Although traditional turkey producers remain optimistic about Christmas prospects at retail, the wider industry is less confident about the likely level of demand, especially for eating out.
In the three months so far of the seasonal placings window (June-August), day-old turkey numbers were down by more than a million, from 6.1 million to 4.9 million.
It is possible that the final month's figures for September could show a firmer trend, representing those destined as smaller birds for family tables.