In a disappointing end to the Christmas marketing season, the egg trade failed to rally further in November, and wholesale colony prices slipped back a little.
The average wholesale price for colony Large and Medium sizes slipped by 3p/doz during the last month, ending a four-month run of rising prices, achieved largely through substantial depletions.
See also: Morrisons to produce insects for poultry feed on free-range egg farms
As a result, the average wholesale price for Large at the start of December was 25p/doz higher than a year earlier.
However, the free-range sector merely remained steady for another month but ended November at a level 25p/doz below that of 12 months previously.
It means that the gap at wholesale between Large free-range and colony has narrowed by 50p/doz in the past year, to around just 25p/doz.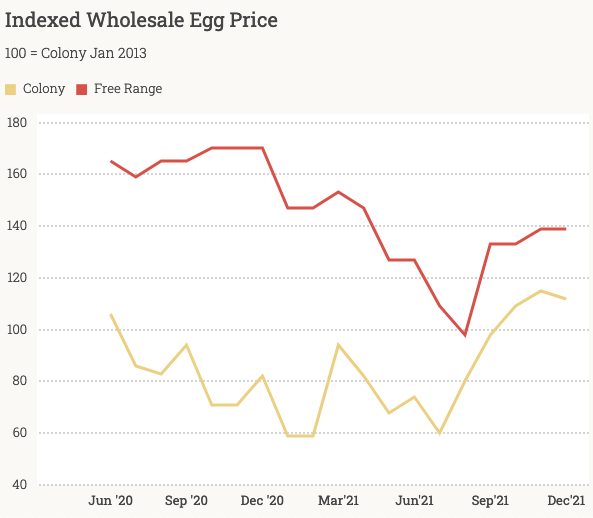 There was still time for things to improve, but only at a very late stage, suggested the Central Egg Agency's Andy Crossland.
"Normally, at the month's end, with a cold snap, and Christmas around the corner, it's usually a busy time. But it's very quiet.
"It's probably going to be a last-minute job, but certainly nothing exciting's happening out there at the moment," said Mr Crossland.
"Retail demand for the time of year is not brilliant, and neither is processing demand, nor for boiling.
"It's a tough market. There's a bit of surplus around, certainly on the free range front. This is the first year we've had free range on offer at any time beyond September/ October."
Although Colony egg supplies were tighter, with not much offered, he added that they were competing against cheaper Continental imports, predominantly from Spain and Poland.
Chick placing data indicates that the UK laying flock size should start to shrink as we move through December into next year.
Bird numbers are set to drop by 1.4m by March, although early depletions may already have achieved some of that.