RABOBANK has released an analysis of the global egg market, which suggests several factors that could hinder the expansion the sector has seen over the past 15 years.
For developed markets, the report finds disease, cost inflation, changing regulations and consumer demand are impacting supply in the short term as well as longer-term growth.
See also: Average broiler weights jump since 2019
While prices are notably dropping from 2022 highs in the US, in the UK and European markets, egg prices are expected to remain high and not fall to pre-2021 levels.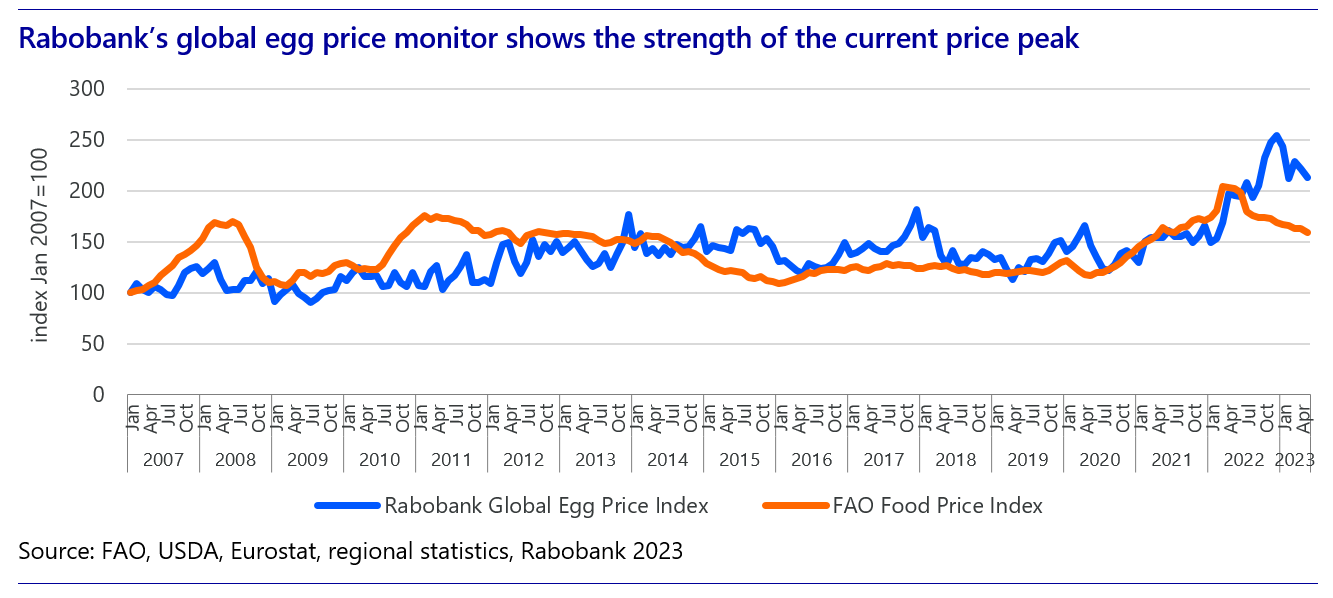 Rabobank's global egg price monitor hit a new record in 2022's fourth quarter, with prices 2.5 times higher than the reference year of 2007 – but 100% higher than a year earlier.
Egg prices have also diverged from the UN's FAO Food Price Index, monitoring a 'basket' of staple commodities, which they historically follow most of the time.
Input costs
Feed and other input costs are one clear challenge to the supply chain, with avian influenza (AI) another – the UK is singled out as a country with a laying hen flock particularly hard hit by the virus recently.
And across the EU, it estimates about 5% of the laying hen flock was lost to AI.
The report also highlights uncertain sales contracts – it is not just in the UK that producers have become cautious about placing birds. Placing a laying-hen flock is a significant investment, and farmers faced with volatile feed, uncertainty over AI, and general inflation have proved reticent to expand.
However, as consumers challenged by inflationary grocery prices trade down, eggs are potentially more preferential to consumers wanting protein at a lower price.
Tight markets
The result is likely to be a tight egg market for the foreseeable future, with expansion in hen numbers potentially curtailed by higher interest rates and less access to finance.
The report's author, Nan-Dirk Mulder, said market trends could quickly turn, as seen in the US, revealing how important it is to rethink business models in the value chain.
"In the longer term, a refocused and measured approach to better balance market supply and demand, pricing, and risks in the value chain is important.
"Such an approach should include the key tools of more customer commitment, more demand-driven value chain cooperation, strategies to reduce the impact of avian influenza and government interventions, and better access to finance for the sector.
"The egg industry, customers, governments, and other stakeholders will need to join efforts to optimize value chains and link these efforts to industry business models."