SEPTEMBER has brought with it a flurry of new products and services designed to help poultry producers in the UK improve performance, farm efficiency, bird welfare – or simply to make life easier.
Here, we round up a few of the latest things to land in our inbox.
If you have something new and would like to shout about it, drop us an email: editor@poultry.network
Food Safety Programme from Elanco
Elanco recently launched its Food Safety Program (FSP) a framework that supports farmers in their efforts to control salmonella.
It combines on-site audits, assessments calculations and follow-up actions to help businesses understand and improve food safety, according to Elanco.
The program evaluates a wide range of measures across farms and uses an algorithm to generate an index that indicates areas of risk.
The index also allows benchmarking between different farms, both geographically and over time so that improvements can be measured.
Noble Foods has been trialling the system for the past two years and it is now being rolled out to the rest of the layer sector.
Anoxiatec equipment from Oxair
OXAIR has launched a new nitrogen-based system (pictured above) designed to give farmers the option to cull birds in a high-welfare way on farm. 
The culling of older laying hen flocks has become a challenge in recent years as the price for spent hens has plummeted. It is often commercially unviable to send birds for processing.
The enclosed system from Oxair involves guiding birds into a nitrogen environment at which point they take two-to-three minutes to die. They will not regain consciousness or experience distress, according to the firm.
David Cheeseman of Oxair explained: "For decades, poultry farmers have been seeking a more humane way of putting down egg-laying poultry at the end of their life.
"Traditional methods are not exactly known for being free of distress for the birds so we're delighted that our new and unique system can fill this gap in the market so effectively.
"It really is the most humane way available to give aged egg-laying birds a more peaceful, distress-free send-off."
'Farm Essentials' Site from Elta Group
ELTA GROUP, the company behind well-known poultry brands like Hydor, Bowden & Knights and Animal Aids, has launched an e-commerce store.
The site, www.allagri.co.uk, will sell more than 250 products relevant to poultry farmers and plans to expand to other sectors.
It offers consumables, pest control, ventilation equipment and animal health products.
The site promises next day delivery for items ordered before 1 pm.
Elta Group's Lucy Evans said the site was built after extensive market research. "We know farming can be a lonely job sometimes, so we wanted to create something that's deeper than a transactional exchange.
"Customer experience is at the heart of all of our processes, and each engagement has been planned meticulously. We really look forward to seeing what farmers think to it."
On-farm incinerator from Addfield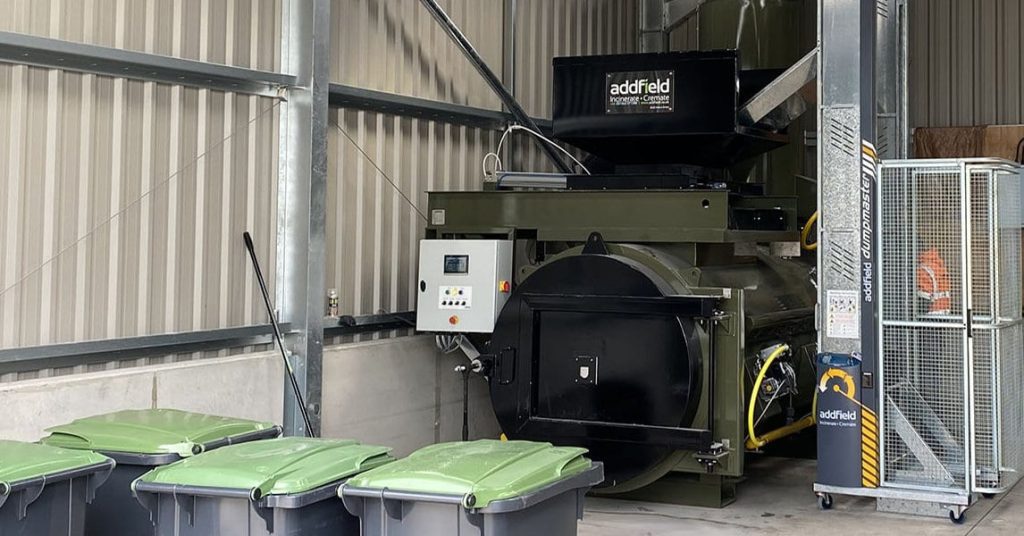 ADDFIELD ENVIRONMENTAL SERVICES has brought a large-scale version of its agricultural incinerator to the UK market.
Designed for large broiler houses, the A50L is capable of managing up to a tonne a day ­­– or as little as 100kg.
Safely disposing of fallen stock or culled birds is essential for any farm's ongoing biosecurity.
The new kit allows almost continuous loading via an automated hopper and bin tipper system.
"We work with farms of all sizes from micro small holdings through to some of the largest pig and poultry producers in the world," said Addfield business development director James Grant. "The A50L was initially developed for customers in the middle east.
"It happened to be a genuine coincidence that we had this machine in development at a time when we started seeing inquiries from larger poultry farms based in the UK looking for a bigger machine with a greater capability."
Eggbase integrates Glas Data sensors into software
EGGBASE has partnered with farm tech firm Glas Data to offer improved data collection on poultry farms.
The company will now offer sensors that monitor a range of environmental elements, including temperature, humidity, light, sound and carbon dioxide.
Things like differential air pressure, weight and water can also be monitored in real time.
Eggbase managing director Anne Fleck said: "Now is the perfect time for the poultry industry to embrace and exploit the power of our cloud-based data and sensor solutions."