A focus on improving performance through data analysis has put one poultry farming business on a more sustainable footing, as Natalie Noble reports
Today A J Forster is recognised as a top 1% broiler grower in the UK grower of Ross broilers, achieving for them membership in the Ross 400, 420 and, latterly, the 440 Club.
See also: View more Sustainability Hub Content
The business's record performance with Ross birds currently sits with a European Production Efficiency Factor (EPEF) of 453 and a 1.49 feed conversion rate (FCR). It's delivering a growth rate of over 70g/day – and at the factory end, below 1% rejects.
But for this broiler business, it has been the comebacks of all comebacks.
So when Chris Forster is asked what sustainability means to him, he says that it's about making sure your business is there for the future.
Starting out
Selling up their Cumbrian dairy farm, Chris Forster's grandparents purchased land near Penrith in the late 1970s, intending to build a new family home – but there was an agricultural tie.
Needing to farm to build on the land, they began a broiler enterprise, building one chicken shed and then a second shortly after.
And it just grew from there, says Mr Forster. "It all started at Beaver Lodge, which we're still farming today."
Together, his grandparents, father and uncle farmed Beaver Lodge until 1986, when his father and uncle desired to farm more independently.
They purchased a second farm, Greengill Foot, just three miles down the road, and built six sheds there.
In 1993 they erected six further sheds at Greengill and in 1996 this was followed by six units at Beaver Lodge alongside the demolition of the two original sheds.
The family further expanded in 2001 with another eight sheds.
At this point Beaver Lodge was home to 392,000 across 14 sheds, and 336,000 across 12 sheds at Greengill Foot – a big operation.
Family dynamics
However, changes happened within the family and business' structure with the passing of Mr Forster's grandad in 1999, and more came in 2007 with his grandma's passing and his uncle's decision to step away from the business.
"Dad bought out my uncle and took on the ownership and the running of both sites," he explains. "That took away a lot of the time he would have spent with the chickens."
Mr Forster, then aged around 17, was working full-time on the farm, and in 2009 he took over the management of Beaver Lodge.
"I was naïve in farming the way we'd always farmed; just going on with how it had always been done – the old system of that's how my grandad/dad used to do it, so that's how I'm going to do it."
Come 2014, Mr Forster was starting to have his own ideas about the business and looking at the books he could see that it could have done better.
"We'd left the supermarket trade in 2004 and went into the independent sector," he explains. "I think that was a big falter for the business, because it put us in a market fight scenario, always fighting for the feed price and our liveweight price.
"Looking back on it now, there was so much time and effort put into those battles, and the management of the birds was left to our workers which – well, it wasn't their birds or money, so…"
Mr Forster decided to leave the farm for 12 months, entering the joinery trade, which was a big learning curve and showed him the significance of attention to detail.
But conversations with his parents led him back to the farm.
"The farm managers were gone, and the business wasn't doing very well at all.
"I could see that reaching out to other farms and to others for help was the way forward – but it was hard to convince my dad of that at the time," he says.
"But the situation did give a little bit more leeway in terms of implementing small changes that could start to make a difference."
Over the next couple of years, Mr Forster diligently collected data. "You have to collect as much data as possible to ensure that the positive steps are recorded – on such a large scale of farming, positive steps can get lost in the everyday or when something goes wrong.
"And I learnt that every detail had to be recorded and put in front of my dad to prove that a small step was a small step in the right direction."
Changes
In 2019, the business left the independent market and went into the integrated market with Hook2Sisters, and Mr Forster doubled down his efforts to improve the performance of his Ross flocks.
At the time, chickens were sexed, with the flocks at a stocking density of 25,000 birds per shed, reaching an average weight of over 3kg liveweight in a nine-week cycle.
Feed conversion rates (FCR) were around 1.85 to 1.9, with growth rates at times below 60g/day. Mortality ran at over 5% and factory rejections sat above 3%.
"We were averaging around 330-340 EPEF (a base efficiency calculation of mortality rate, FCR and average age and weight at finish) and our performance in winter might have even been less than that.
We stopped getting the calculator out at one point – the Ross target being 400 to be considered a good grower. We were losing tens of thousands of pounds each cycle."
So what were the key areas of improvement?
Data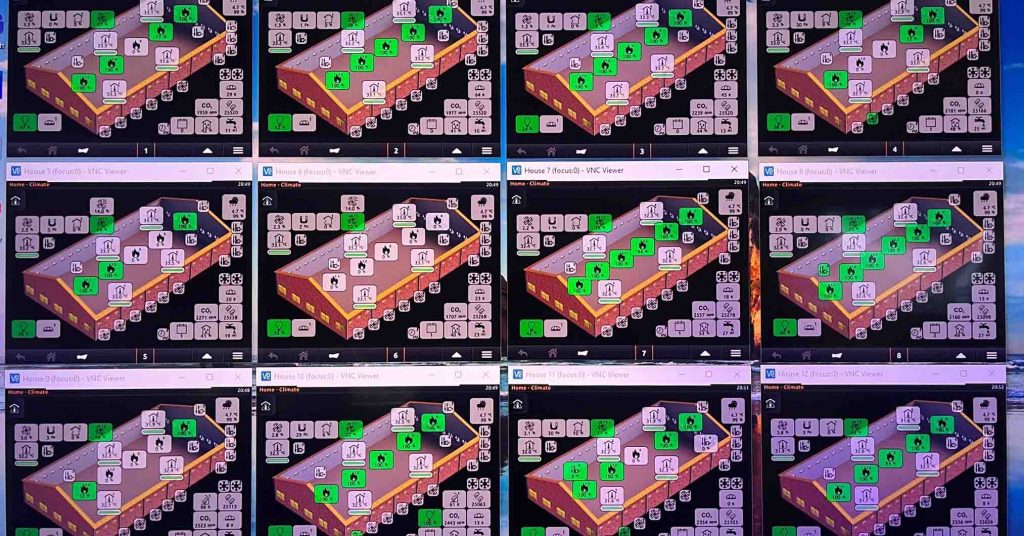 Having such a focus on data collection drew Mr Forster's attention to the insufficient information they were extracting from the sheds' ventilation and environment systems.
"There were limits on how much data we could extract. I wanted to learn more about what was going on inside the sheds, to better understand what changes we needed to make," he explains.
"So in 2019 I contacted Paul Draper from Draper Ventilation and within six months we'd done an upgrade on every single house.
"I decided to make that investment – some £120,000 – out of my own pocket because I believed in what I was doing."
And data is king as far as Mr Forster is concerned.
"The Draper system felt like the start of the turnaround," he says.
"Suddenly we had so much more data and were able to use this to make changes. Those positive small steps just started happening faster and faster."
Introducing Optifarm – an online software for poultry shed monitoring – for six months in 2020 helped him translate data and identify trends happening on the farm.
"Within that period and using that software, we were really able to drill down on the data we were getting from the new system. That's when we got our first 420 EPEF – in May 2020," he says.
All in all, being able to identify causes and reactions to inform bird and house management decisions led to significant improvements. "It was knowing that if we took three steps forward and one step back, we could identify what made those steps forward and back."
Climate control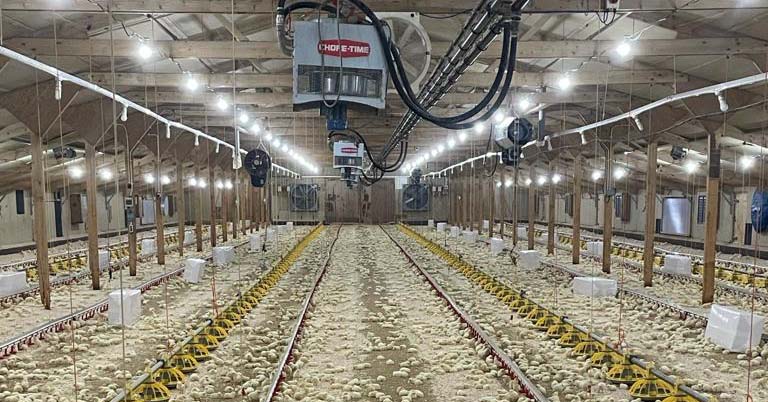 Before installing the Fortica ventilation system, senior ventilation consultant Justin Emery and poultry consultant Emma Mingo, who at the time worked for Draper were the first to assess Mr Forster's sheds with smoke testing and inspections.
"It was another lesson in attention to detail," he says. "And we could see that the old system was holding us back.
"We were having to go in and take manual readings and adjust the ventilation to what we believed to be best.
"The computerised climate control system meant readings could be taken every 15 minutes, with automated ventilation."
The system was installed between flocks, leaving all the existing ventilation equipment, adding new computers to drive it, and four temperature sensors per house plus carbon dioxide, ammonia, and relative humidity sensors.
Lighting intensities were also assessed and adjusted accordingly.
The computerised system makes more efficient use of warmer and cooler external temperatures as well as responding to CO2 and humidity spikes throughout the day. Manually, that would have never happened, says Mr Forster.
"Not only does that improve the birds' environment but it also makes us a much more efficient business – it's been a huge step in the right direction and the birds are thriving."
Flock care
Another key decision in 2019 was moving to Avivets, under the care of founder and lead vet Will Garton, to take a more active approach to flock health.
"When it's not going right, it takes a lot of work just to maintain bird welfare, so when you've got all these challenges, it just makes it even harder," explains Mr Forster.
"We needed a much more hands-on approach and our old vet was good, but he just didn't have the time we needed."
The primary disease across the farms was coccidiosis, causing litter issues and dirty birds which then underperformed and were susceptible to other disease challenges.
"Will could be more hands-on and he spent a lot of time on the farm, not just treating the coccidiosis, but also advising and helping us implement other changes like upping biosecurity.
"He helped boost our the effort and actions from 70% to 120% and we improved chick management through attention to temperature curves and nutrition as well as introducing chick paper.
"We also improved water quality with thorough line cleaning and testing from borehole to the last drinker, and introduced nutritional applications to support gut health," he explains.
"Once we had the cocci under control the herbal, vitamin and mineral supplement added to the water acted as a preventative measure while supporting gut and overall health."
The combination of better management of the shed and flock care meant litter was dry and free of bloody faeces, birds were clean and performance was on the up.
By the beginning of 2020, average EPEF had risen to 370-380 with FCR at 1.7 to 1.75. Mortality had fallen to 3-4% and factory rejections were down to 2%.
Team
Shortly before installing the new ventilation systems, the business had a change of staff – bringing in people from outside the poultry world.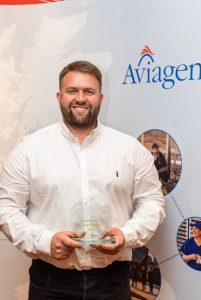 "We brought in two new people – Steve Tinkler and David Blenkharn," says Mr Forster.
"They both had a strong sense of animal husbandry but having not worked with poultry they didn't come with preconceived ideas and were keen and willing to learn along with me."
An important step was sitting down with his new staff and being clear and inclusive about where the business was and where he wanted it to be.
"I was very clear that it was going to take a lot of work and data collection, but if they were up for doing it with me, then I'd make sure they were supported all the way."
He also recognises his team from outside the business. "Sarah Dean from Noble Foods contributed financially; she could see the potential for the business with its restructure and proposed investments," he explains.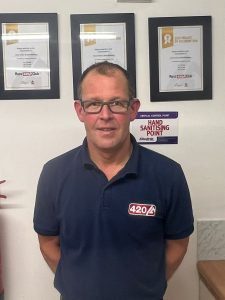 "And, of course, there is the advice and hands-on support from Justin Emery and Emma Mingo, and our vet Will Garton."
Drive
Back in 2018, there was a lot of talk, outside of the business, of the farm going bust. "I could only see one way to change their perceptions and that was to work hard, perform well, and become one of the best.
"And that drive is still present, but you've got to have something else behind that and for me that is most certainly my family.
"Waking up to my wife, my two young children, having that, I realised it's no longer just about me; it's about making a life for and with them – making a life of memories and positive things.
"I now never get out of bed and think 'I can't be bothered', because before I even go to work, I see them, and that gets me going, even when difficult things are happening."
Recognition
Recognition is also a big driver, not just for Mr Forster but for the whole team. "The last couple of years we've been nominated for and won national and regional awards – being labelled as the top performing 1% in the country," he says. The family farm has been recognised several times at Ross Club awards
"The family are always there supporting us, but until you get the outside recognition, you don't quite believe how well you're doing – I think because people doubted us for so long, it feels like we've achieved what we set out to do in terms of changing people's perception of AJ Forsters.
"And the team have been fantastic. There are 650,000 birds, and I can't collect all that data and look after them all myself – you need a strong team.
It's not their business but they still take care and have an incredible drive that I have I think is quite hard to find."
This article forms part of our Sustainability Hub. In getting the best performance from the broilers in their care, the Forster family is unlocking genetic improvements to Ross birds as outlined by Aviagen below.
Recent FCR improvements mean birds are better at absorbing the nutrients from their feed and, in turn, produce less waste as environmental pollutants.
Over the past 20 years, birds have excreted 28% less nitrate and phosphate.
Less feed also corresponds to lower intake of water, a valuable natural resource.
A healthy 2.5-kilogram broiler today needs 1.4 litres less water than the broiler 20 years ago.
Optimal water consumption promotes the sustainability of poultry production.
At the same time, it maximises broiler health, welfare and performance by enhancing gut health, litter quality and thus footpad health.