Working with the Carbon Trust, one egg packer has introduced the UK's first certified carbon-neutral organic egg range. Aaron Finucane reports.  
As the agricultural sector strives to reach sustainable carbon standards, one of Europe's largest egg producers, Noble Foods, has achieved carbon neutrality in an existing product line. But how did they do it? 
"We wanted to set the product apart from any other in the UK and give consumers buying organic an additional environmental benefit, so the Purely Organic range was the perfect place to start," says Glenn Evans, Group Environmental, Health and Safety Manager at Noble Foods. 
"So, we have offset emissions, but most importantly, we have committed to a long-term carbon reduction plan, which is a key requirement of the Carbon Trust's neutrality certification and holds us firmly to account." 
Starting the project
With growing consumer demand for sustainable produce and Noble Foods' organic producers already exploring and benefitting from sustainable production, enthusiasm for the project was high.
"Our farmers are completely bought in to their organic systems and an ecologically viable ethos, including the reduction of their own carbon footprint," explains Mr Evans. 
"The company's environmental strategy is focused on reducing Greenhouse Gas (GHG) emissions year-on-year, as well as sustainable farming and raw material sourcing.
"That's why we chose to work with the Carbon Trust. It is the gold standard of carbon neutrality, a certification which is widely recognised and respected and puts a heavy focus on emissions reduction, as well as offsetting." 
Understanding the Purely Organic brand's entire carbon footprint was the first practical step for Noble Foods, and it recruited Alltech E-CO2 – pioneers in agricultural carbon benchmarking – to make the initial assessment.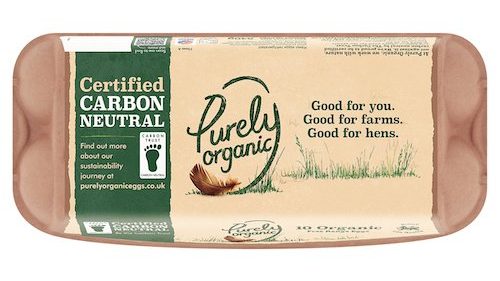 "Alltech has a well-established farm footprinting software and methodology that is also approved by the Carbon Trust, so it was a natural partnership," says Mr Evans. 
On-farm assessments began by evaluating key operational aspects like energy bills and consumption, feed, mortality rates, manure protocol and egg weight. 
"All parts of the operation are examined to determine on-farm efficiency, and ultimately carbon footprint," Mr Evans explains. 
"But farm assessments are just one part of the process, as the company's carbon neutrality certification is cradle-to-grave, so the whole value chain is included." 
The "cradle-to-grave" methodology is comprehensive and includes assessments of:
13 laying farms, including rearing units 
Raw feed materials and sourcing 
Egg packaging and transport
Apportioned utility usage in feed mills and pack centres
Distribution of graded eggs
Usage phase and end-of-life phase operations.
The final carbon footprint intensity was 2.67kg CO2e / kg eggs.
GHG reduction 
Noble Foods initially bought enough carbon credits to offset all production (see offsetting, below), but expects to reduce this, year on year, as it finds carbon reductions in its supply chain.
"Carbon reductions achieved via base year initiatives will be measured and presented during this year's certification process."
As part of the certification standards, Noble Foods needed to supply and make public a qualifying explanatory statement (QES), which supports the carbon neutrality certification. 
"In our QES, we have committed to identifying projects – including their estimated carbon reductions – which will be evaluated for positive benefits in relation to GHG emissions," Mr Evans explains. 
"Then every year, new projects will be added to achieve year-on-year reductions in GHG emissions."
This year (2023), Noble Foods has three of its own laying farms making improvements to heating and lighting infrastructure. 
"Also, one of our feed mills has changed the boiler from fuel oil to liquified petroleum gas. And we are looking at origin sourcing for raw materials in our feed system," says Mr Evans.
Recognising that the most significant gains to be had are well within their influence, the firm has identified raw feed materials and transport as major factors for focus. 
70-80% of the GHG emissions are associated with feed and raw materials origin," says Mr Evans. "So, our carbon reduction plan is concentrating on those operations in the first instance."
Offsetting
With offsetting being a large part of the initial neutrality drive, Noble has purchased 9,170t CO2e of offsetting credits via Climate Impact Partners, which marries investors with projects.
Meeting gold standard GHG reduction qualifications, projects can range in location from Nicaragua and China to Ghana and Bangladesh. 
"We chose a renewables wind turbine project in Nicaragua to invest in," says Mr Evans. "The project offers the obvious environmental benefits, but also includes social and economic advantages like local employment.
"In the UK, we're looking at the Woodland Carbon Code projects, which are starting to come into play now. So, potentially we'll see some of those in our future offsetting plans."
Certification is assessed annually, for which Noble Foods needs to provide its most recent carbon footprint figures, and an adapted QES outlining further plans for carbon reduction and offsetting. 
"As time goes on, it is going to be a bit of a moving target, which we recognise. For the next renewal, transport and raw material sourcing will be key areas of focus," says Mr Evans.
Wider net zero aims and developing technology
Acting as an ideal testbed, the 'Purely Organic' project demonstrated the scope of work involved in reaching carbon neutrality for eggs. 
"Mapping the project has been a lot of work, much of which will be ongoing," explains Mr Evans. 
"But we've learnt a lot over the past two years, and more broadly, we see carbon neutrality as a stepping stone to reaching our wider net zero goals as a company."
Armed with an improved understanding of where to focus its efforts, and with developing technology on the horizon, he is convinced that Noble needs to lead the way.
"Transport is a reasonable slice of the carbon pie, and as technology like the electrification of heavy goods vehicles comes online, we'll be able to make some significant gains. In fact, we're already working with suppliers to move that area forward."
The company is also investing in renewable projects on its own sites, with planning underway for a ground-mounted solar installation at its largest packing centre.
However, as raw material sourcing is the major contributor to emissions, it must be tackled. "While renewable energy and transport electrification will have an impact, neither will be as significant as changing the origin of raw material supply." 
The Carbon Trust 
Noble Foods began working with the Carbon Trust in 2022 to meet the international standards required for carbon neutrality certification.
"We've scrutinised the full production lifecycle," says Tom Cumberlege, director at the Carbon Trust. 
"We're very clear when organisations set out to understand their carbon impacts; our role is to ensure they are doing so in line with international standards."
The first step is measuring carbon impacts. "Measurement data is recorded and submitted to the Carbon Trust," says Mr Cumberlege. 
"It is reviewed, and any improvements needed in data quality, or any corrective actions, are communicated. This process continues until we are satisfied measurements align with international standards."
The next stage is looking at GHG reductions and offsetting. "High-quality offsets can be used to balance emissions, but what we need to see is a credible carbon reduction plan in place," explains Mr Cumberlege. 
"Organisations must commit to the PAS 2060 standard, which requires the development of a carbon management plan to reduce emissions.
"To retain certification, meaningful year-on-year GHG reductions must be shown against the footprint initially measured. This commits an organisation to turn ambition into impact."