DEFRA has opened a new initiative that could offer farmers some funding towards new equipment.
The Farm Equipment and Technology Fund (FEFT 2023) offer is competitive, meaning not every application is successful.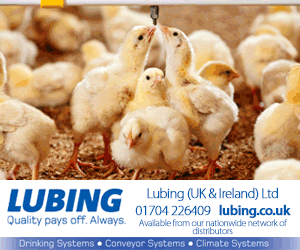 It has two 'themes' productivity and slurry, and Animal Health and Welfare – the latter is more relevant to poultry producers and grants issued will be for a minimum of £1,000 and a maximum of £25,000.
There is a long list of equipment that Defra is potentially offering grant funding towards, and one eligible piece of kit is a new drinking system when installed at a minimum of 1 nipple per 10 birds.
The reason that a minimum of 1 nipple per 10 birds is stipulated is simple – it allows all birds access to water in a shed and lets farmers run water lines at lower pressure, which reduces the risk of spillages and is better for litter quality.
To this end, the Lubing Top Nipple 4077 is an excellent choice.
With a solid stainless steel body and internal components which provide good chemical resistance and long service life, 4077 is the definition of reliability.
Correctly managed, the 4077 is capable of flow rates from 20ml/min right up to 100ml/min, ensuring that birds always have access to the water they need while not producing so much that spillage is caused.
For more information about Defra's welfare grant scheme, visit Defra's website.
Or contact Sam@lubing.co.uk
But be quick – the deadline for applications is 16 June.