The UK broiler industry continues to make up for lost ground during the pandemic.
The first quarter of this year has brought some of the most rapid expansion ever witnessed by the sector over a sustained three-month period.
See also: East Yorkshire poultry business managers join Aviagen's Ross 420 Club
Total placings of commercial day-old broiler chicks were up by 20m during January-March compared with a year earlier, a rise of six per cent, according to the latest figures from Defra.
This amounts to an average rate of expansion of 1.5m extra birds per week.
At the same time, the number of day-olds placed in March reached the highest total of weekly placings ever recorded, at an average of 25.8m/wk, which was a million per week higher than February's record (see chart).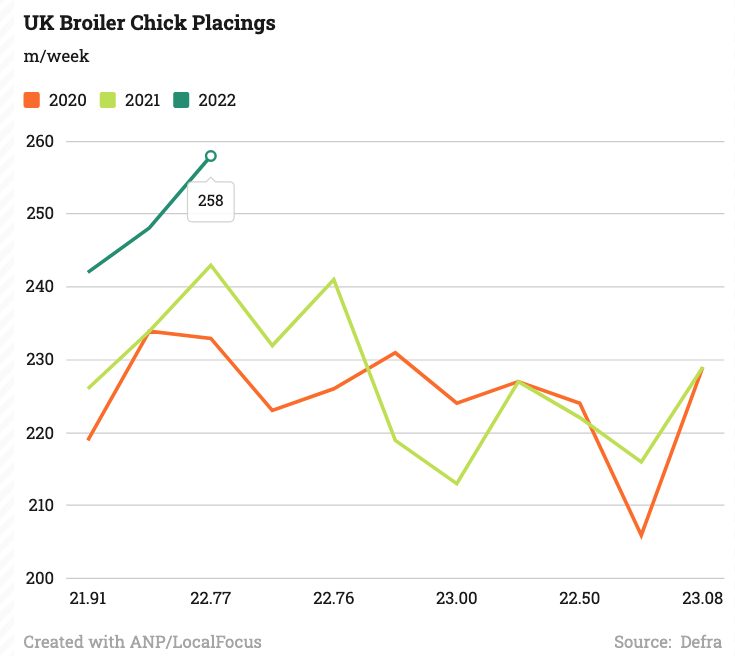 These figures are starting to impact chicken production in the UK significantly.
In the rolling 12 months to the end of March, the output of chicken was up by 100,000 tonnes to 1.81m tonnes (expressed as carcase weight), an overall increase of six per cent.
Turkeys
Meanwhile, things are still moving in the opposite direction in the turkey sector.
The latest figure for March placings shows the lowest monthly rate of day-old poult placings for at least three years, averaging 214,000 a week.
This was more than 30,000 a week fewer than the same month last year, a decline of 12.5%.
In total, poult numbers during the first quarter of the year were 190,000 down on the same period of 2021, a decline of six per cent.