Managing odorous emissions to meet regulatory requirements is proving a key challenge for many poultry producers.
But woodchip is offering a solution on one breeder unit in Devon.
See also: View our new directory of companies serving the poultry sector
Poultry producers increasingly have to look at systems and technology that minimise odorous emissions and fine dust to satisfy policy and regulatory changes.
Air scrubbers and wet walls might suit some farms but not all.
An alternative being explored by the Frankpitt family, based in East Devon, is biofiltration, a living system that cleans air of pollutants and dust – and can reduce ammonia emissions by up to 80%.
The family's poultry origins stem back to the 1950s but now Mr Frankpitt farms in partnership with his children Alex and Holly.
They run their broiler breeder businesses from three sites and recently held an open day with climate control experts Draper Group and commercial poultry housing experts Powell & Co Construction.
The build
The build's H layout optimises the site footprint, allowing for stringent biosecurity and an integrated biofiltration system.
There are four poultry houses – each 54mx28m – centrally joined by a covered feed control area, an egg packing station, and office and staff facilities.
| | |
| --- | --- |
| Breed | Ross 308 |
| No. birds per house | 9,000 females & 900 males |
| Stocking density | 6 females/m₂ |
| Feeder space | 17cm/female |
| Chain speed | 36m/min |
| Nest space | 80 females/m₂ |
The Frankpitt's New Farm
The biofiltration system comprises two 25cm deep biofilters – bark beds – positioned at eaves height over the voids (plenums) between the houses' sidewalls – each house is served by 45x4m (180m2) of biofilter.
The biofilter and plenum is of steel and concrete construction; wire mesh supports the biofilter's main bulk, giving 80% free area through which air can pass.
A margin of slatted concrete gives 20% free space and is integral to supporting the skid steer's weight – used to remove and replace the bark beds at each turnaround.
Biosecurity
To maintain good biosecurity and hygiene, a solid partition runs down the centre of each of the plenums to sperate house air space, with height and double doors allowing small machinery access to each section.
"This design is the first in the UK, and it was great to be involved in turning a concept into an achievable design and build," says Jason Powell, director of Powell & Co.
Work began in February 2021. "Because of the central bark bed, this build had to be different," he explains. "We had to build the far side with the bark bed first and then the other long length next to it with the central corridor.
We were then able to use the bark bed to put our roofing materials on, which helped with the size and pace challenges we had around the building.
Biosecurity is always a significant concern for the Frankpitts; hens are high value, at point of lay costing around £12/bird, producing 150 viable chicks per bird each cycle.
"The main purpose of the building's design is to create better biosecurity and management; it makes the whole site much easier to manage," explains Alex.
"It's like a hospital; within the unit, but outside of the houses, staff wear clean uniform and crocs, and then everyone has a separate uniform for each house; boots and PPE."
How biofiltration works
Most odorous and gas emissions are the by-product of manure decomposition; they comprise a mixture of polluting compounds, including particulates, ammonia and volatile organic compounds (VOCs) – the latter most associated with nuisance odour.
The local council's environmental health officer wanted measures to ensure the new site didn't create nuisance odour or dust, explains Jeremy.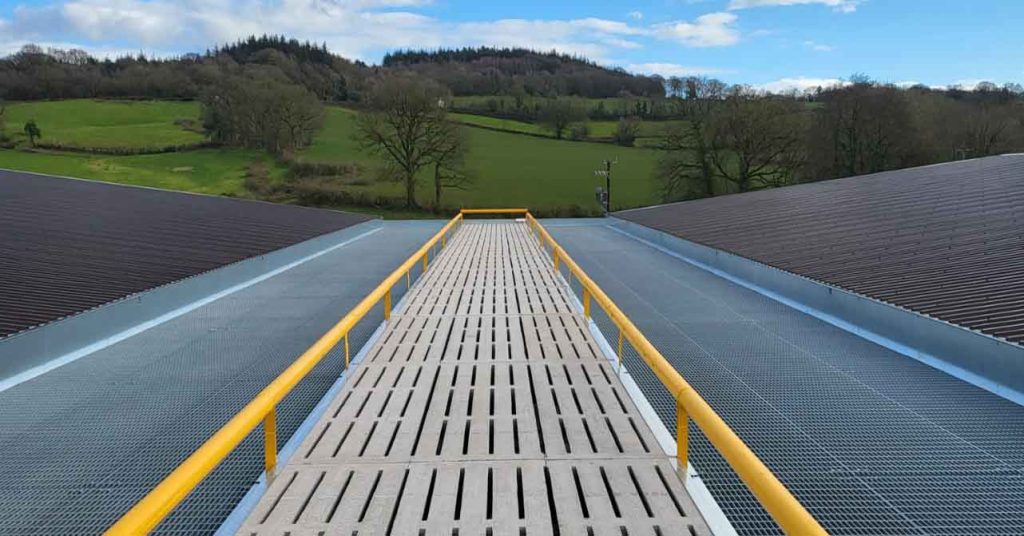 "She advised we looked at a biofiltration system that was working well on a local pig farm; they were using bark as the biofilter. What I particularly like is that it's a relatively passive system; there's no great chemical engineering."
So how does the biofilter work? As a living system, it relies on microbial populations that populate the inoculated wood chip and create biofilms that capture polluting compounds in the presence of moisture.
Pollutants
Pollutants are absorbed and degraded into carbon dioxide, water, salts, and biomass, with around 70% of the ammonia turned into nutrients.
"We took advice from Matt Wilkes, a consultant specialising in biofiltration. He advised that we use course wood chip inoculated with microbes – to activate the biofilter – and the wood chip to be graded to allow percolation," he explains.
And it stacks up financially: At the time, a wet wall system would have cost around £110,000 per house, whereas the biofiltration system cost two-thirds of that, including the graded wood chip, which was around £10,000 to cover both beds.
Synergy
Justin Emery, senior ventilation consultant at Draper, says the unit was designed to work in synergy with the positive pressure ventilation system, considering the massive volume of biofilter needed to process the air from four houses, each housing 9,900 birds.
"We had to carefully consider the dimensioning and size of the biofilter, what type of wood chip to use – including piece size and density – as well as the depth of the bed and the surface area needed."
To be most effective it needed a large surface area with not much depth.
"You want to look at how long it takes air to pass through the filter to allow for effective microbial processes without exerting excessive pressure," Mr Emery explains.
That is influenced by how much space there is between the strands of wood chip, how deep the bed is, ventilation rate and the resulting pressure.
So how does it all work together? Fresh air is drawn in and circulated around the house through four air handling units powered by variable speed EC fans and finally pushed out of the house through air outlets into the plenum below the bark bed.
"Ventilation is set up to respond to carbon dioxide concentration and temperature – and the outlets will be more or less open, accordingly," he says.
Entering the plenum, airspeed dramatically reduces, and dust and feathers drop to the floor.
Air continues upwards and permeates through the biofilter, taking three to five seconds to pass through the bed.
Ventilation rates
There were other considerations when designing the system. "Breeders need to be light-proofed, so any openings into the house have to accommodate that – which this system manages with inlet baffles and outlet design, as the bark beds cover the plenum," Mr Emery explains.
"We also needed to look at ventilation rates and pressure to ensure that air was always moving out of the house and up through the biofilter – if the outlets are too open then air may be able to re-enter the house, which is a biosecurity risk," he adds.
The size of the plenum was also an important consideration. "It needs to be big to slow the air down – too fast, and it'll go straight up into the biofilter carrying debris which could block it," he says.
"There are pressure alarm systems and plenum doors can be opened to release the pressure."
Bird health and welfare will always be the priority, so the team will closely monitor the system, review any areas of concern, and make necessary changes.
| | |
| --- | --- |
| Max. ventilation rate | 147,200m₃/hr |
| Temp. lift | 2.25◦c |
| 1 air change per | 2.8 mins |
| Bark depth | 25cm |
| Bark | Pine (graded) >40mm |
| Residence time | 3 – 5 secs |
Key Metrics of the Biofilter
For the bark bed to work well, the microbial populations need to get established, which can take a few weeks, and there needs to be consistency, which broiler breeders offer, says Mr Emery.
"The bark needs to be wet, and microbes need a food source; all this can make it difficult to manage where production cycles are short and/or have great variation in outputs."
Management
The sustainability and relatively easy management of the bark bed is part of the attraction, apart from getting the bark on and off, says Jeremy.
"Maintenance will involve keeping the bed irrigated – we'll have a sprinkler system doing that – and keeping the space below clean. Dirty water from it will be stored in an underground tank and then spread on land."
A Bobcat skid steer will be lifted onto the drivable area of the bed with bark loaded onto its main area.
The skid steer will spread bark over most of the bed, but some will still have to be hand balled.
"Removing it at the end, we'll put the skid up there and push the bark off, powerhose it down, and then replace just before the new flock arrives," he explains.
"The bark could stay in situ for several years, but because of biosecurity we will be replacing it at the end of every flock."
And used bark could create a mutually beneficial return. "It's valuable organic matter, and we have farmers keen to buy," he says. "We already sell our litter, typically for around £10/t off-farm."