WITH four years passing since the previous Pig & Poultry Fair, there was a lot of new products, companies and services that had not had the chance to exhibit until the 2022 show.
The marketing and indeed products themselves focused on solving some of the big issues that farming faces – less labour availability, disease management and ways to save money, to name a few.
See also: Leading egg packer warns of shortages if market does not improve
Here, we roundup some of the new bits of kit that were on show at the fair.
Farm Health Guardian: Livetec Systems
CANADIAN biosecurity software specialist Farm Health Guardian (FHG) is to launch in the UK via partners Livetec Systems.
FHG offers digital biosecurity systems that help livestock and poultry producers lower their cost of production through improved animal health and reduced disease risks.
The biosecurity management system can enhance on-farm disease prevention with electronic check-ins, vehicle movement records, digitised logbooks, real-time movement reports, instant alerts and messaging.
Livetec is well established in the UK as a biosecurity specialist and works with farm businesses to ensure they have robust biosecurity measures and plans in place.
Julian Sparrey, Livetec Systems' technical director, said: "At a time when biosecurity has never been more critical, we're introducing the latest software to our customers to improve early disease detection, enhance on-farm biosecurity, manage outbreaks and assess disease risks."
FeedAlert: Collinson
FEED BIN specialists Collinson launched a cost-effective technology (see main picture) for monitoring the contents of silos on poultry farms.
The FeedAlert system is a range of silo monitoring solutions, with prices starting at £450.
Envision and Capture are non-invasive strain gauge weighing systems that give an indication of how much feed is left in bins.
They can be fitted at the factory on new silos, or retrofitted to any make of existing silos, and have both a digital display on the unit itself, and connect to mobile phones via telemetry, giving farmers a cost-effective way to ensure they never run out of feed.
Sam Collinson, MD at Collinson, said: "We've had Genesis load cell monitoring for a number of years now, and it is very popular, but it goes way beyond what is required for inventory control.
"Envision and Capture are an affordable solution that can be installed safely by end users on any silo in 30 minutes."
Intella Dual: Cargill UK
CARGILL UK launched a new feed ingredient, Intella Dual, which the firm says offers dual action mix of fermentation postbiotic technology and essential oil compounds.
It has been trialled on broiler units in North America, Thailand and France during 2021 and launched commercially in spring 2022.
The postbiotic component included in Intella Dual has been developed by Cargill company Diamond V in a highly controlled fermentation process. Stabilised essential oil compounds, proven to promote efficient broiler performance, are added after fermentation.
The essential oils and postbiotic component have a synergistic effect and have been shown to improve nutrient absorption, digestion and gut health, Cargill said.
Based on a six-trial average result for birds at 42 days, body weight increased by 3%, and feed conversion rate was reduced by 2.5% where Intella Dual was included in broiler diets, compared with the control diet. Results from a five-trial average showed breast meat yield improvements of 6% from 32.26% to 32.89%.
"This is the only feed ingredient of this type for use in broiler production that brings health and wellbeing, performance and sustainability benefits," said Cargill UK's poultry commercial manager David McBride.
Sanigene 360 Degree Disinfection Gate: Interhatch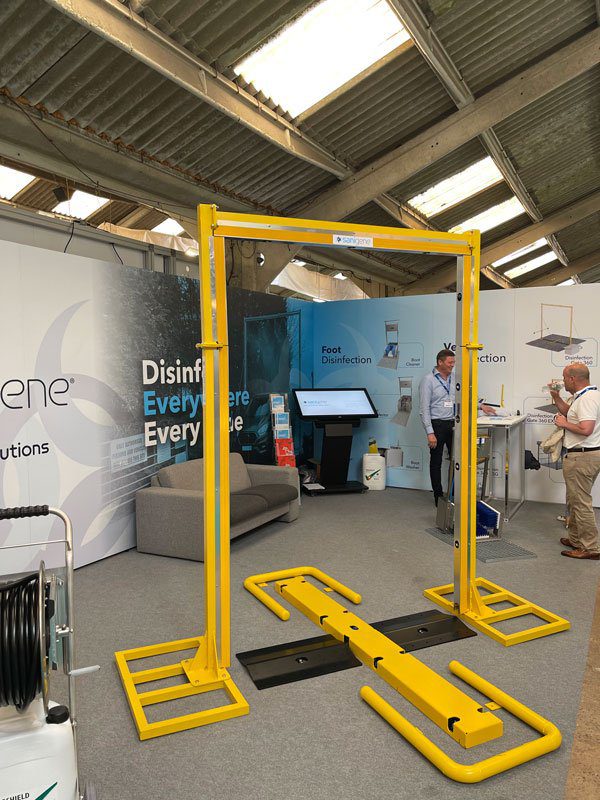 INTERHATCH says that the Sanigene 360 Degree Disinfection Gate is a cost-effective way to improve the biosecurity of poultry farms.
The system comprises a rectangular set-up fitted with sprayers that disinfect vehicles all-round as they drive through it.
It comes with a 230v powered pump and can be set up to start automatically, by remote control or manually.
Camera-based bird weighing system: Pondus
THE Pondus system eliminates the need for hand weighing and improves the representativeness of weight data for farmers and integrators to support management decisions and improved planning.
This plug and play, camera-based, solution is the first of its kind globally.
BioComplex BOOST for Poultry: Ekogea UK Limited
BioComplex BOOST is a natural, organic, and sustainably sourced hygiene product for use in broiler and layer sheds.
The firm says it can improve bird health, performance and profitability by reducing pathogens and ammonia in poultry houses, improving feed conversion ratios.
Greengage Animal Welfare Index: Greengage Agritech
Greengage's new Animal Welfare Index collects data from hardware on productivity, behavioural and environmental elements to create an outcome-based measure of animal welfare.
The firm said: "Our unique platform of in-house sensors measures environment, movement and vocalisations. When combined with productivity data our Animal Welfare Index Score creates a measure of welfare that can be used to assess, monitor and improve animal welfare, and compliance."