THE 2022 NFU/Zoetis poultry trainee of the year award finalists have been revealed. Roger Ranson reports.
Veronica Crawford of The Lakes Free Range Egg Company; Rebecca Goodings, of Noble Foods; and Dominic Lucas, of Avara Foods, are the three hopefuls competing for a £2,000 training grant.
See also: Defra announces new farm equipment grants
The winner is announced at the NFU's AGM in February, with all finalists invited as guests to the Egg & Poultry Industry Conference in the autumn.
Veronica Crawford, The Lakes Free Range Egg Company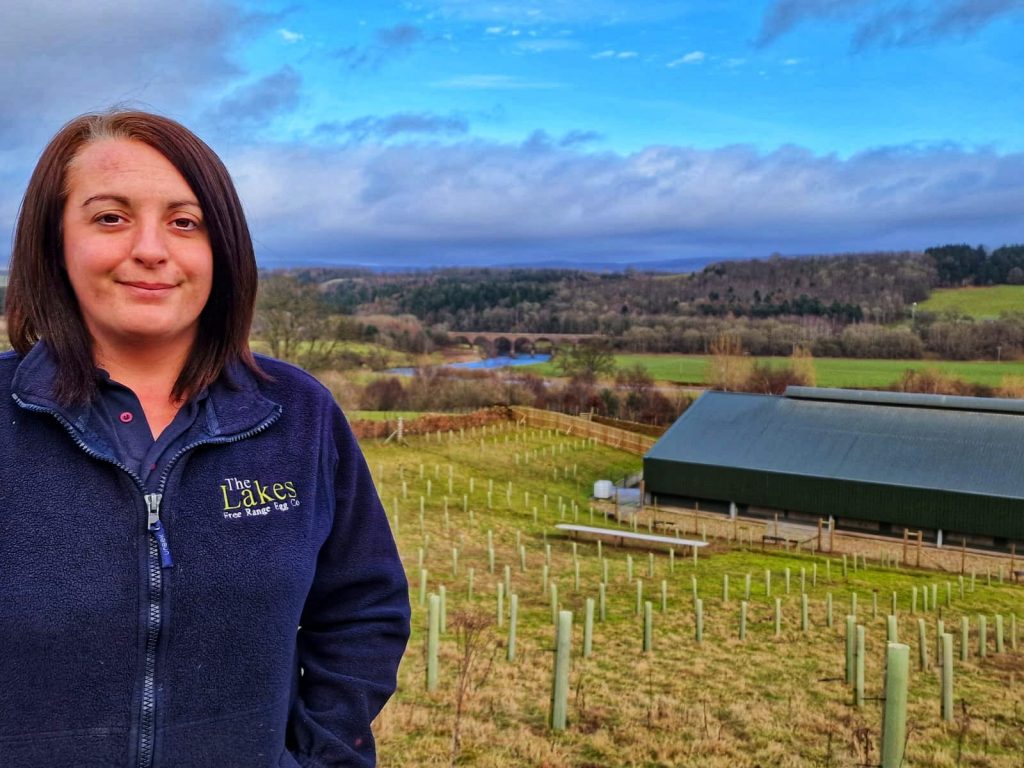 Veronica describes herself as a "city girl who liked dogs", which led her to study animal care and on to an agricultural course at SRUC Ayr Land Based College.
After the first year, she decided that the course with its arable content was not for her and took a job in the care sector.
She soon discovered she was missing the involvement of animals and found a job as a poultry worker with Aviagen.
'Fascinating'
"I worked on a pedigree breeding farm and found it fascinating," she said. "I had to learn everything, but I was keen."
After progressing quickly within Aviagen, Ms Crawford spotted a farm manager's job with The Lakes Free Range Egg Company.
She began looking after 16,000 free-range hens and another 6,000 in organic production, but with expansion on site, she is responsible for 29,000 hens. Now she is also on-call duty manager for all the company's farms, staff and welfare.
Veronica completed a Level 3 Poultry Technician course with Poultec Training in October.
Her training adviser Andy Gotts said: "Every time I speak to Veronica she just lights up the room with her knowledge and passion for poultry farming.
"Even though she is relatively new to the industry, you would think she has been doing it as long as I have!"
Rebecca Goodings, Noble Foods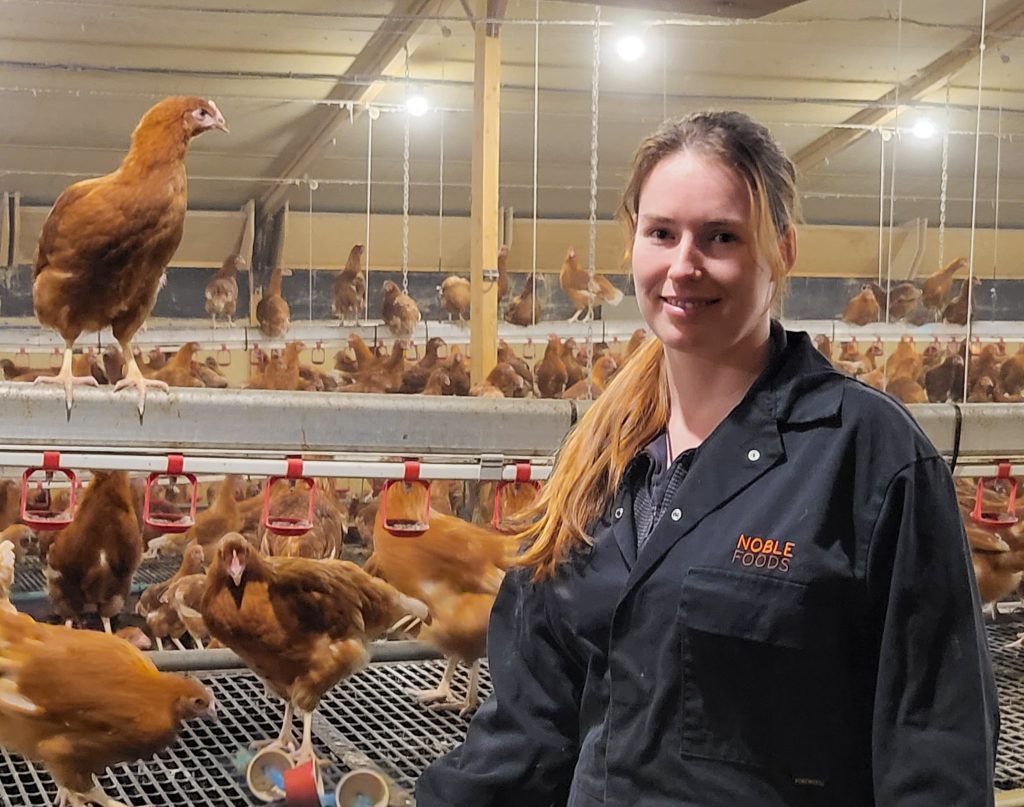 After several years in the retail sector, Rebecca Goodings decided it was not for her and looked for a career with poultry.
She became assistant manager on a large pullet rearing site in Oxfordshire for Noble Foods when a new opportunity arrived for her to demonstrate her potential.
Last year, she took on sole responsibility for managing the farm.
"I had to learn things very quickly, and I very much enjoyed the challenge of running the farm," said Ms Goodings.
At the same time she was passing audits for the Lion Code, the Environment Agency and Freedom Foods and carried out three depletions and two chick intakes.
'Rising star'
Her performance impressed her manager Jean-Paul Michalski, head of agriculture-retail for Noble Foods. "Rebecca is one of our rising stars," he said. "We are excited to have her in the team and be able to support her development and career.
"It is great for Rebecca to be recognised.
"Our loyal teams are the lifeblood of our business and the wider poultry industry, unsung heroes that often don't get the recognition they deserve."
She is working on the Poultry Technician Level 3 course, due for completion in the autumn.
Her training adviser Scott Hughes of Poultec Training, commends her ability to adapt to changes in her role.
"When Rebecca had to take responsibility for the farm, she stepped up to ensure that all responsibilities were met without any compromise to her training."
Dominic Lucas, Avara Foods
Dominic Lucas grew up on a smallholding managing sheep and decided to study for a degree in agriculture at Harper Adams University.
His placement year at Cargill as the British Poultry Council scholar shaped his future.
He returned to Avara Foods on its graduate programme as one of the first of his graduate cohort to be offered a permanent position.
He gained experience first on a broiler breeder rearing site for 50,000 parent stock before moving into broilers, becoming assistant manager of a site for 230,000 birds.
He went on to manage the firm's Parkway farm with 230,000 broilers, where he produced its highest margins – 145 p per square metre – and two crops with an EPEF over 420, the highest scores on record there.
Just as he was settling into this role, an opportunity arose in the contract production management team, where he is now responsible for 28 farms within the broiler grower base.
His primary role is to grow the company's relationship with these farms – "ensuring they meet our growing standards and focus on the bottom quartile performance using action plans presented to the team monthly".
Communication
Jamie Shattock, regional manager for broilers at Avara Foods, said: "Dominic has developed his communications skills so that he can hold difficult conversations with owners when necessary, such as discussing financial and management issues.
He has benefited from a wide range of training from various providers, including Poultec and practical and people skills in the company's graduate programme.
Currently, he is undertaking his ILM level 5 in leadership and management.
"Dominic is a highly credible, well-grounded person who has achieved a great deal at Avara and is an exemplary role model for the younger farming generation," added Mr Shattock.
"He demonstrates pride in what he does and wishes to impart that on to others he is training. I believe Dominic is an ambassador for the future of the poultry industry.